I know what you're thinking! Healthy home made pizza with hidden vegetables! Gasp! That's not a great way to teach your kids to love and eat healthy vegetables. And yes, you are so right. Hiding vegetables every single day is not going to teach your kids to recognise and love veggies. (But it is a quick and easy healthy dinner.) And what about teaching your kids healthy eating habits with pizza? Am I crazy? Please just hear me out for a few moments.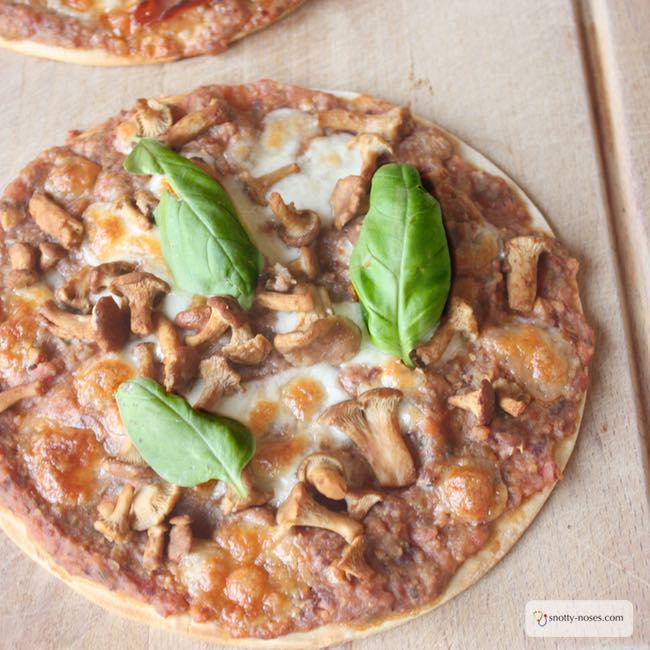 Keeping Life Simple
This dinner is SO easy, SO healthy and SO yummy and it just happens to have vegetables hidden it. Sometimes there are just times when your 3 year old has only eaten bread, bread and bread and although you don't want to worry about it, you do want to make sure he eats something else.
Sometimes you get tired of your very stubborn 8 year old picking out the "disgusting courgette" (zucchini) that he eats pretty much every day and only complains about when he actually notices.
And sometimes you find yourself with a batch of left over vegetable sauce that isn't really enough to make dinner with. It could be easy vegetable pasta, but in this case it was easy vegetable chilli with its slightly smokey fragrant taste of cumin and paprika. Makes for an awesome and easy pizza.
Yes, sometimes you just want a quick and easy and healthy dinner that you know your kids will gobble up.
How to Make Easy Pizza
I have another confession too. I used shop bought pizza bases. Making your own pizza totally from scratch is great fun, but really it isn't that quick and easy. These pizza bases were made with flour, olive oil and no other ingredients other than a little salt. So not much different from the home made version anyway.
Healthy Pizza Sauce
I used some left over chilli sauce and just whizzed it up in the blender. It did look a slightly funny colour due to the kidney beans but the kids didn't notice. It had heaps of lovely veggies in it, beans, onions, yucky courgette, carrots.
Next time you have some left over sauce, pop it in the fridge or freezer to turn into a pizza topping. If you don't have any, you could just cook up some onions and use a jar of tomatoes. I have even used just simple jarred or tinned tomatoes or tomato pasata (like tomato sauce but slightly thicker) all by themselves when I haven't anything else in the cupboard.
I spread the tomato topping on thick so that the kids would be getting lots of veggies.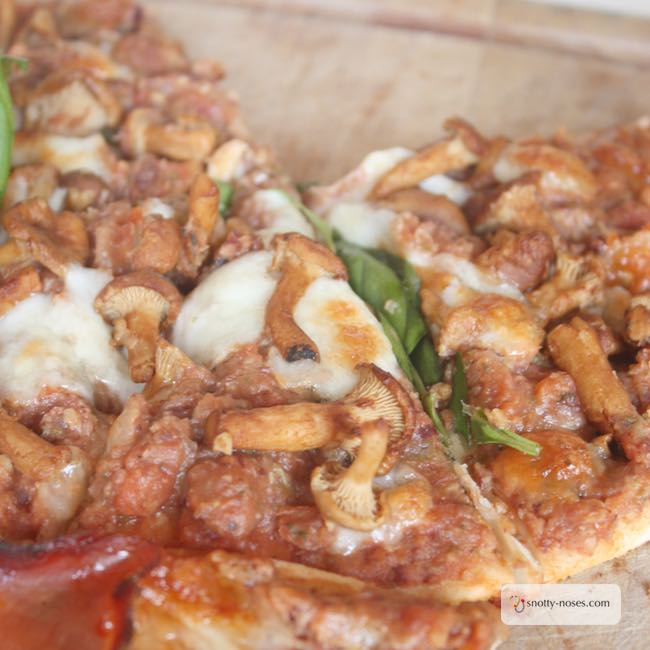 Add Cheese and Toppings
I used mozzarella cheese and a little parmesan on top. For the kids I left it simple as I wanted quick and easy. I just added a few pieces of "lomo" which is like posh ham. For the adults I added some frozen mushrooms (knowing the kids wouldn't try it, more for us!)
Of course, you could add whatever other topping you wanted. Olives, peppers, egg, sweet corn. Whatever you have in the cupboard. That's why this is such an awesome and quick dinner.
Serve Extra Vegetables
Remember how easy it is to magic a regular meal into a healthy meal?
Normally I would serve a salad with pizza but we had salad at lunch time. I cooked up some zucchinis in a little olive oil. Just 5 minutes on the hob. I knew the kids wouldn't eat them by themselves but they had lots of vegetables in their pizza so that's fine. They were really just for my husband and me.
Is Pizza Healthy?
People always ask me this question. And it doesn't really have a "yes" or "no" answer. Not all pizza is created equal.
Firstly there are different types of pizza. A homemade or restaurant pizza that is made with good quality ingredients is not the same as a pizza out of a box that has a mountain of cheap plastic style cheese and nothing resembling a real vegetable in sight.
Secondly you want to look at the proportions of food groups. Remember that a healthy diet for kids is around half of fruit and vegetables with a quarter of grains and a quarter of protein. So if your pizza has lovely healthy vegetable sauce, is topped with fresh vegetables and has a reasonable amount (not mountains) of cheese and other protein, you're doing well and can call it "healthy pizza". If your pizza is mainly bread base with an inch of cheese (yes, really they do exist) and not much else, we're looking at "less healthy pizza".
Lastly remember that nothing is forbidden in moderation. Even if your pizza is "disastrous really no where near healthy pizza" that doesn't mean you should never touch it. It means eat it sensibly. Not every day, not as your staple diet, just from time to time.
What you eat is not about this one piece of food, this healthy pizza or this not healthy pizza. It's about your whole diet. If you eat healthy or unhealthy pizza as part of a balanced and healthy diet then you have nothing to worry about.
How to Encourage Healthy Eating Habits with Pizza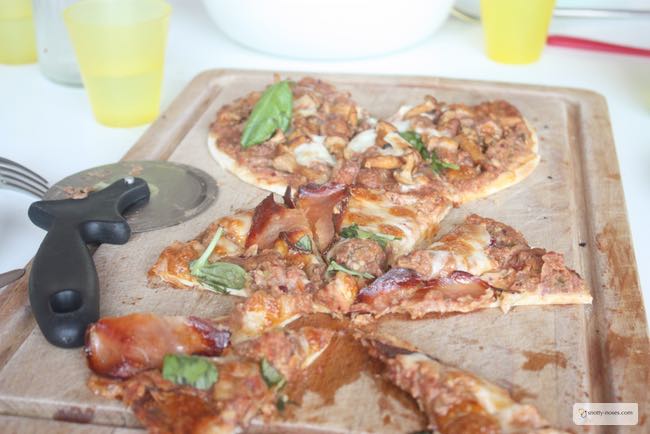 Present your pizza with lots of healthy vegetables. Go for ones that you know your kids love and will eat. (Mine like carrot sticks, some of them like tomatoes, some of them like cucumber, some of them even eat raw pepper. Or this carrot salad that we all love.) Present some new ones that you know they won't eat.
Cut the pizza into reasonable slices rather than giant slices. 3 small slices is better than 2 large ones. They can always come back for more if they are still hungry.
Instead of letting them dive into the pizza and pile it high, allow them to take 1 or 2 slices of pizza and some vegetables. You can even put the vegetables out first as a starter and let them help themselves whilst you're finishing off the pizza.
Homemade Healthy Pizza Success
So you see, even something that is considered "unhealthy" can be transformed into a healthy and quick meal AND you can help your kids learn about healthy eating habits. Who would have thought it just from a simple pizza recipe?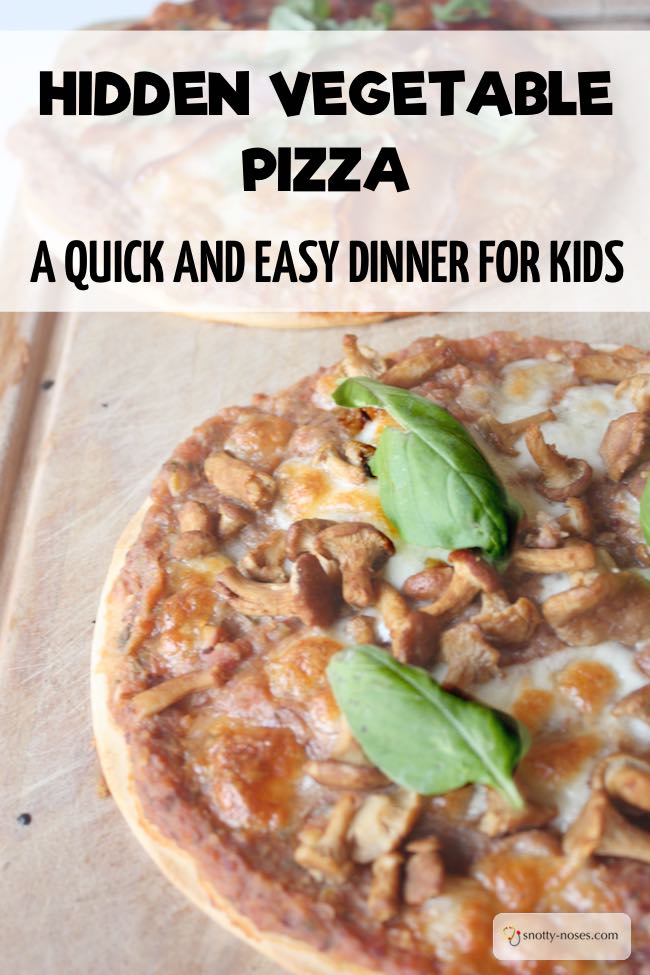 Save