This post is in partnership with Sea-Bands. However, all opinions expressed are my own. Thank you for supporting the brands that encourage my creativity.
Our car was packed to the brim, children, bags, toys, clothes all squashed in and piled on top of each other.
The kids were chattering excitedly as we set off on the long journey home from grandma's in France to Spain, a stunning 4 hour drive along the Pyrenees Mountains.
An entire 17 minutes later I heard a feeble groan coming from behind me. I turned around, ignoring my own queasy feeling, to find a child as white as a sheet.
"STOP!" I yelled. Screeching to a halt wasn't really an option but luckily we found a lay-by and piled out.
Travelling with kids is never easy but when your kids suffer from motion sickness, that's a whole new level of "fun".
That particular journey went down in the family "disaster list" stories. (Note to self, when travelling with kids who suffer from motion sickness, don't drive up very twisty road and tie knots in plastic bags and expect them to be able to untie them in time! I will spare you the gory details.)
I Want a Natural Motion Sickness Remedy
I have suffered from motion sickness my entire life and have just learnt to live with. I make sure I don't read, keep cool and hope for the best. Sadly I've never found a natural motion sickness remedy that has been effective for me and I'm not too keen on taking tablets that aren't essential.
So when Sea-Band reached out and asked if we'd like to review their pressure point bands, I jumped at the chance.
They sent us 2 pairs, one for my vomiting son, the other for me.
Putting the Sea-Band Motion Sickness Remedy to the Test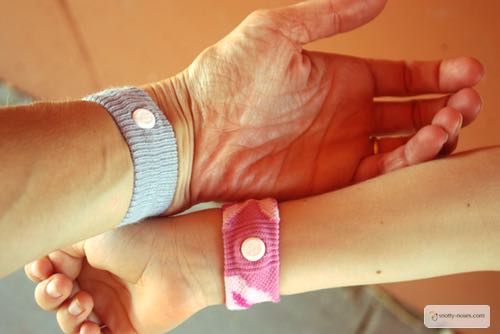 We put the Sea-Bands to test driving to one of my favourite beaches. A long twisty, stinking hot coastal road. I LOVE this beach, but always feel car sick by the time we get there.
Dante (aka Vomiting Veronica) and I put on our bands before jumping into the car. The instructions told us how to put them on so that the button was over the pressure point.
Celeste (younger sister) was very upset that she couldn't have a go, assuring me she does normally suffer from car sickness. (She doesn't!)
The instructions say 2 bands per person.
"What otherwise they won't work their magic?" asked my husband sceptically.
Off we set.
Everyone was hot, sticky and tired before we even reached the twisty bit.
Half way down the costal road, I realised I didn't feel sick.
I did have a sensation, a bit like a memory of car sickness, not the strong "please don't make me turn around to sort out your bickering because if I have to I'll turn green" kind.
Just a vague and totally manageable ghost of travel sickness.
Let's call it 5% of what I normally feel.
Not feeling green. Not feeling ghostly white. Not wishing I had a bowl in my hand.
"How are you feeling Dante?" I asked.
"Fine!"
When we arrived, I took off the Sea-Bands, carefully placed them in the glove compartment and jumped out of the car.
Someone nearby was smoking, a wave of nausea flooded over me. I find that when I already feel sick, horrible smells make me feel ten times worse.
I wished I'd kept the bands on for a little longer, until my body had fully recovered from the roller coster journey.
What a Great Natural Motion Sickness Remedy
Our conclusion was that we loved the Sea-Bands. There were absolutely NO side effects and they significantly reduce our motion sickness.
Dante felt no motion sickness and my motion sickness so was greatly reduced as to be negligible.
Now I'm even looking forward to those long twisty roads in the Pyrenees next time we go to grandma's house.
About Sea-Bands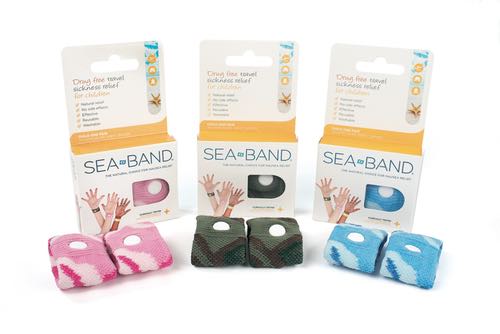 Sea-Bands are acupressure knitted wrist bands that are clinically proven to relieve motion sickness and morning sickness in addition to helping with post-operative and chemotherapy-induced nausea.
Sea-Bands are the natural choice for drug free relief of all types of nausea.
Natural relief
No side effects
Effective
Reusable
Washable
How to Get Your Sea-Bands
Sea-Bands are available from all major retailers and online:
Adult Sea-Band available from Boots: £8.59
Child Sea-Band available from Boots : £8.59
For more information about types of nausea and forms of prevention, visit the Sea-Band website.
Win Your Own Sea-Bands Competition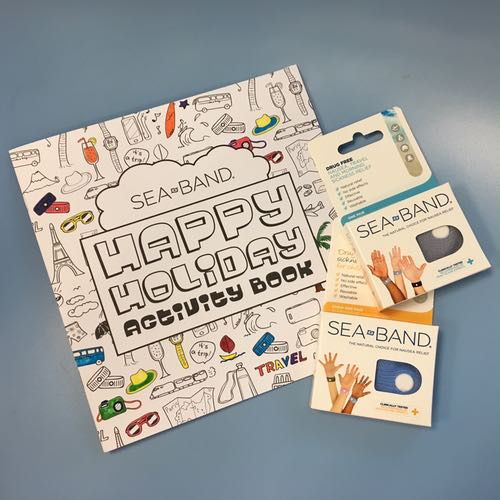 As a drug-free solution to travel sickness, Sea-Bands are a must have for any family getaway. No matter your holiday style, travelling as a family can still have its challenges, with car journeys and coping with children bickering in the back, a particular pressure point, as reported by a quarter of UK parents. 
However you get to your destination, Sea-Band's Happy Holiday Activity booklet, packed full of activities for the kids of all ages, with colouring, fun facts, word searches and much more, means there'll be a lot less arguments this summer!
For your chance to win an Activity Book and some Sea-Bands of your own, all you have to do is enter the competition! Good luck!
(Open to residents of the UK ONLY.)
Click to take the quiz and enter the competition to win an Activity Book and some Sea-Bands. (Value £20.)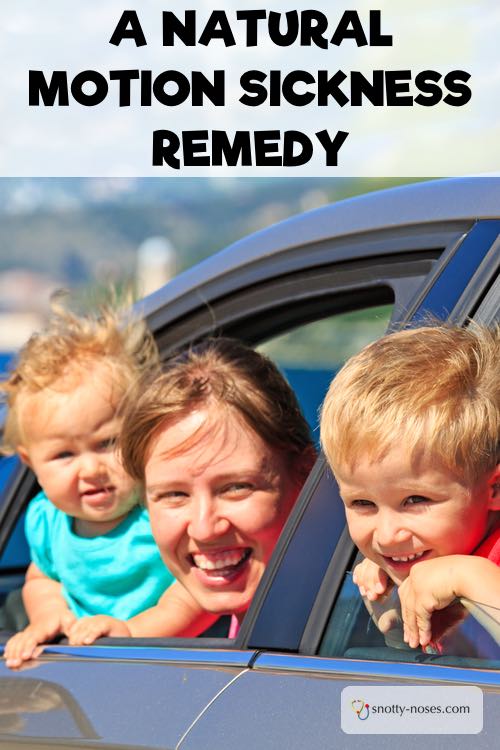 SaveSaveSave