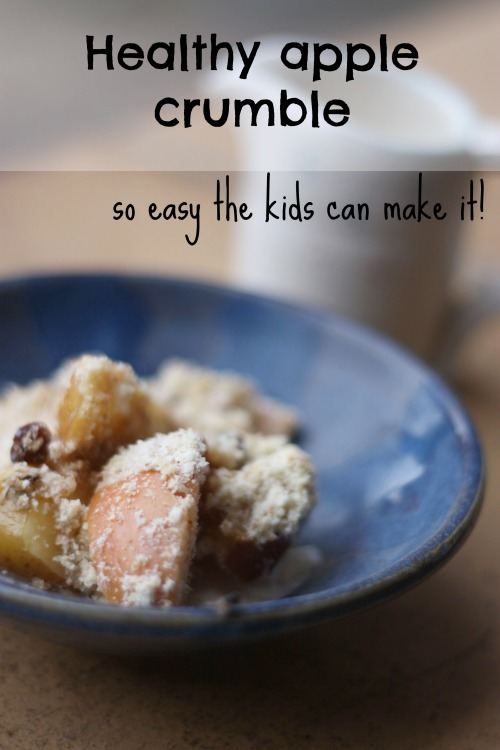 Cooking with kids is a great activity. It's a great way to get them involved with nutrition. It can help to break down barriers to trying new foods as well as teach them how much time, effort and love goes into preparing their food. It sets them up with life skills that they'll all be using when they're grown up. Not to mention great fun! (Just please be careful of knives!)
This is a really great recipe to make with or without children. Without them, it takes about 5 minutes to put together (if you have a 'magic' apple cutter). With them, I guess it depends on the age of your children. It's really healthy, I don't add much sugar. It's mostly just apples. The boys love eating the leftover apple cores. Like licking the bowl...except eating some apple!
Ingredients of apple crumble
Apples, around 10 but it depends on how much you want to make.
Raisins to taste.
A tsp of cinnamon (optional).
50g butter.
100g flour, I used half plain, half wholemeal.
100g ground almonds
3 teaspoons sugar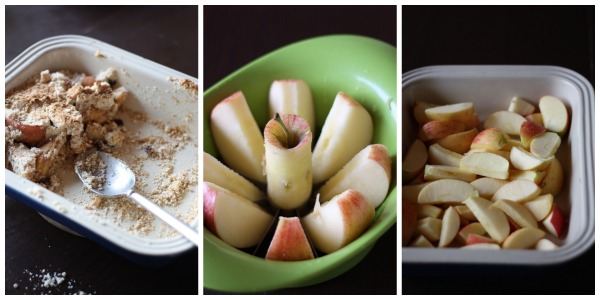 How to make apple crumble
Cut up apples
Put in oven proof dish
Sprinkle with raisins and cinnamon
Whizz up butter, flour, sugar and almonds
Put topping over apples
Bake in oven at 200C for 40 minutes
OK, really easy! It's a great recipe for windfalls or slightly damaged apples, just cut out the manky bits. Galen age 6 always likes peeling them. Dante (4) and I use our special 'apple cutting' tool. (It looks a bit like a space ship, you push it down and it cores the apple and slices it.) We leave the skin on (not just because I'm lazy, it's added fibre!)
We put the apples in a baking tray and sprinkled over some cinnamon and raisins. (If your apples are tart, add a bit of extra sugar.)
Next, the topping. We use 100g plain flour and 100g of ground almonds. You can use all flour if you prefer, or all almonds. We whizz it up with the butter (50g) and 3 teaspoons of sugar. And then sprinkled the top with almond pieces if you like.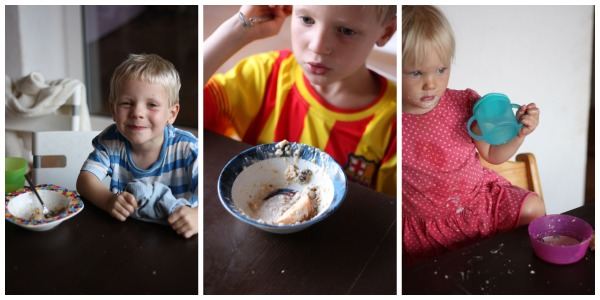 Put it in the oven for 40 minutes at 200C. (The more apples and the bigger the pieces, the longer it will take.) If you want to speed things up a bit, you can put the apples in a pan and simmer them for 5 minutes with a bit of water. Then finish it off in the oven.
Galen probably would eat the whole lot if I let him. As far as puddings go, it's quite healthy. Mostly apple with a bit of sugar, butter and flour sprinkled on top. And if you only use almonds and no flour, suitable for all our coeliac friends as well. And you could substitute any fruit you like really, pears, plums, black berries, you name it. 
What a great way to enjoy autumn.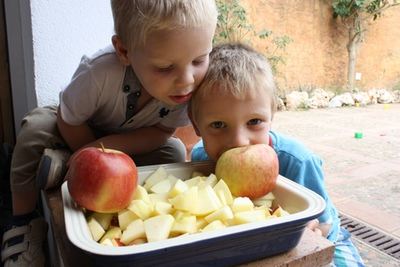 FREE Healthy Eating for Children Video with BUSY Parents
Are you struggling to feed your children a healthy diet because you're so busy? I know it can be tough so I've made a video full of great tips to help you. Just sign up and I'll send you the link to the video. Follow the link and enter your email address.
Healthy Eating for Children Course
Is your child's health important to you? You know you'd like them to eat healthily but you don't know how to change your habits? Need some extra help? 
I also do an awesome online video course, which is not free. But it is great. It's $350 which does sound a lot if you compare it to a book. But if you think of giving your children the gift of a healthy life…remember that nothing in life is guaranteed, but there are things that you can do to increase your chances and healthy eating and exercise are up there at the top. If you could give that gift to your children, it's a small price to pay. If you want to know more about the course…check out this page.
Just want to watch the free video? No worries! Sign up here.
Dr Orlena Kerek
I am a paediatric doctor and mother of 4 small scamps. I write about helping children to eat healthily, without lots of stress and worry. It's all about building healthy habits that last a lifetime.
Save