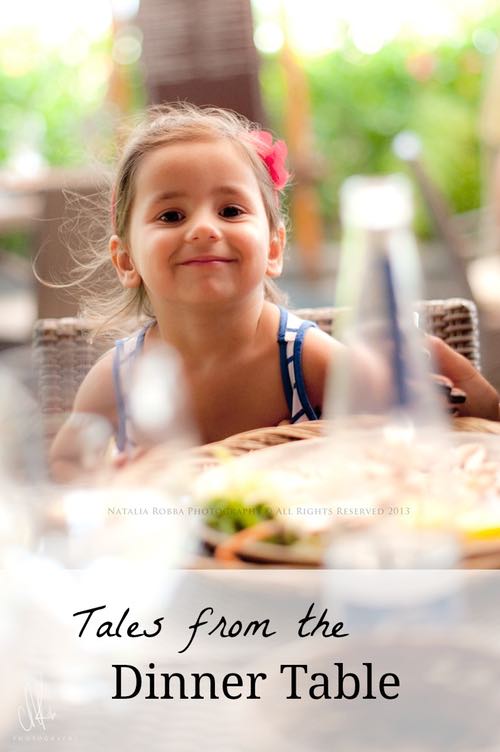 Family life with small children can be stressful but I always feel that time flies so quickly and it's important to cherish every moment. Stories from the Dinner Table are just that. Everyday stories about the ups and downs of family life.
"Who wants to help me cook dinner?" I asked excitedly as I walk my 4 and 6 year olds back from school. Stony silence. "It's stir fry!" I say, trying to drum up some enthusiasm. Dante looks at me and asks me how long it is until his birthday. "Is it soon?" He asks eagerly. I suspect that 4 months is not really 'soon' when you're only 4.
We get home, I go into the kitchen to start chopping vegetables. Dante wanders in. I ask him if he wants to help. This time he's keen. "Can I do the carrots like last time, when I peel them and keep going and keep going?" 
"Yes, sweetheart," I say,"but be careful with the peeler".
We stand side by side. Him on a back-to-front chair so that he can reach the work top. We chat about nothing much. I love this time after the kids get back from school. Just family. Just cooking. Just family meals. I know they aren't always easy. Especially when you have two year old toddlers. But hey, that's my life.
Stir fry is one of our favourite meals. The older 2 love it and accept it. I can use it to introduce them to new vegetable without them getting upset. Today I'm going for a leek and 3 mushrooms (I've set myself a challenge to get them to like mushrooms.) Yep, only 3. I don't want to overdo it!
I chop and chat, chop and chat. By the time I've finished, Dante has done…half a carrot. "Shall I help you?" I ask "No, my do it," he says with determination. I do the other one for him. "Wow, that is super quick mummy". Hmm, I was planning on having cooked carrots but never mind.
Galen comes in and without being asked he gets the knives and forks out of the draw. I pick my mouth of the ground. I would love to pretend that my children are perfectly behaved but normally when I ask them to do something the answer is "why do I have to do it?" He gets out plates for us all and after I point out that he hasn't exactly laid the table (think dumped in a pile) he sorts out the knives and forks as well. And tries to find coloured plates the twins will like.
I let the boys choose "secret ingredient' to put on top…Dante chooses sunflower seeds and Galen some mixed nuts.
Celeste sits down happily. Sebastian not so. He has had stir fry before but it's still not 'accepted'. He squwarks a lot. Galen tells him it's "yum yum". Wow. He hasn't even tried it yet. The power of a positive mental attitude. Those mushrooms are going to sail through!
We give up on enticing Sebastian. He often fusses about the colour of his bowl (yep, he's 2). But today I think the whole of dinner is a problem. He wanders off to play. He's doesn't seem very hungry. The others eat seconds, Galen has thirds. The leeks and mushrooms are eaten without comment.
"What do you think we put in the vegetable stir fry?" I ask. I want him to know that he's eating mushrooms but don't want to rub his nose in it…We play a guessing game. Answer…onions, ginger, a leek, cabbage, carrots, courgette, 3 mushrooms.
Galen continues eating without complaint. I ask Sebastian if he would like some bread or fruit. He says no. I know it's difficult to allow your children not to eat but he's perfectly capable of saying "bread". He hasn't touched a bite. Oh well, I expect he'll eat a large breakfast tomorrow.
Tips to help your children eat healthily
Present them with healthy food, allow them to leave what they don't want.
Allow them not to eat if they aren't hungry. (I know it's difficult to trust them!)
Get them involved in cooking.
Keep introducing new foods. It takes 10 -15 presentations before something is truly accepted or rejected. Before that, it's usually rejected as it's unknown.
Family meals have been showed to help your children eat healthily.
FREE Healthy Eating for Children Workshop
If you'd like to know more about how you can feed your children a healthy diet without stress, here's how I can help. Firstly, I have an awesome FREE workshop that you can attend. We'll look at how you can help your children. It's totally free, you can come, you can learn and that's it (there's a recording if you can't make the live session.)
Healthy Eating for Children Course
I also do an awesome online course, which is not free. But it is great. It's $350 which does sound a lot if you compare it to a book. But if you think of giving your children the gift of a healthy life…remember that nothing in life is guaranteed, but there are things that you can do to increase your chances and healthy eating and exercise are up there at the top. If you could give that gift to your children, it's a small price to pay. If you want to know more about the course…check out this page.
Just want to come along to the free session? It would be great to see you. Just register here.
photo credit: Natalia Robba via photopin cc