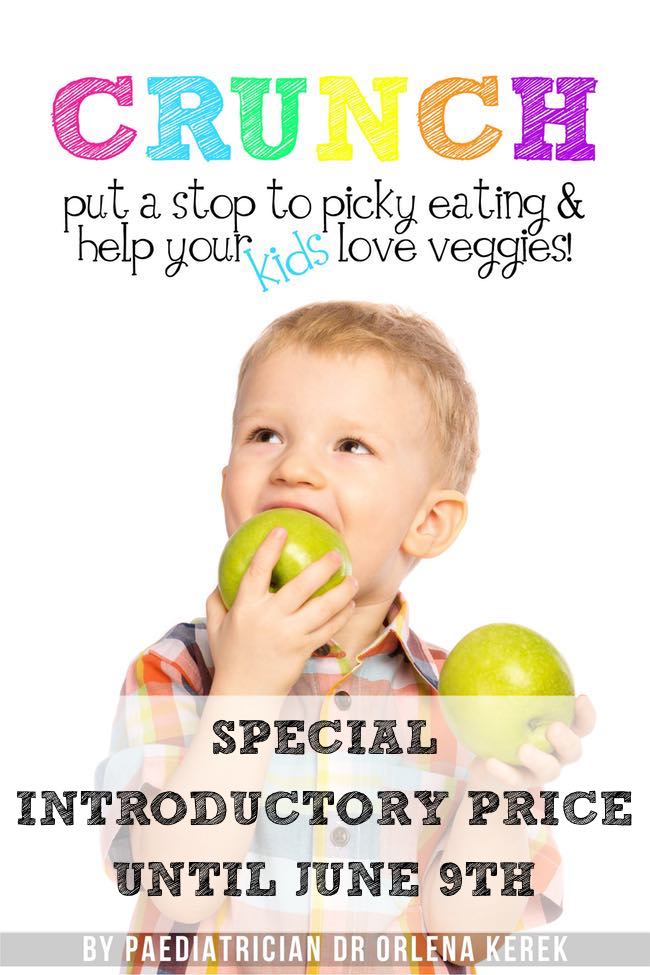 I'm really excited to announce the launch of my book. "Crunch! Put a Stop to Picky Eating and Help Your Kids Love Veggies."
If you're struggling to get your children to eat healthily then this is the book for you. You want your children to eat veggies, you just don't know how to go about it. Or perhaps your mealtimes are loud and stressful and turning into the Battle of the Pea?
Let me help! Let me show you the stress free way to healthy eating so that your kids can enjoy all those health benefits of a healthy diet. My book is applicable to parents of children of all ages, including toddlers!
So, what will you learn?
The Contents of the Crunch!
Why is healthy eating important? (Think of all those health benefits your kids will get.)
What is healthy eating? 
What the Kids Think. Why is it that kids are so resistant to some foods?
What the Adults Do. A look at how adults inadvertently shoot themselves in the foot when it comes to helping your kids eat their veggies.
Introducing New Foods. There are good ways and not so good ways to introduce new foods to your kids. I'll show you the best ways.
Processed foods. Why are some processed foods worse than other and how can we avoid the worst?
Working it into Our Day. Establishing healthy eating habits and keeping at them.
Healthy Snacks. How we can offer healthy food throughout the day.
What People say about Crunch!
"I am very excited to receive your book. We are always trying to make sure that our children eat healthy and that even in our absence they should be able to make better choices themselves. I found your book perfect!"
Ayesha from Words and Needles
"I loved the book. One of my 2 1/2 year old twins is an extremely picky eater, and I am trying to help him learn to eat a variety of healthy foods. Your approach is so positive and not overwhelming that it really feels like something I can do!"
Laura from Sunny Day Family
Special Introductory Offer.
I'm offering a special introductory price of 30% off all my products. That means that the book is just $10. Just follow the link to make the most of the offer. It's valid until June 9th. (You're welcome to take advantage of the other offers too!)
What other people say about Crunch!