Coming Soon! Healthy Eating for Picky Toddlers. A Pediatrician's Guide to Happy Meals.
My new book is launching soon. If you'd like to be informed when it launches (and grab your free copy) please sign up. I'll email you when it's ready to go!
Sign Up for Your Free Launch Copy
Are you struggling to feed your toddler a healthy diet? Are meal times stressful and noisy? Does your toddler refuse to eat healthy foods and nag for cookies and treats?
This simple and amazing book will show you all the secrets you need to teach your toddlers to healthy eating habits and restore peace and calm to the dinner table.
It is tough being a parent, especially a parent of noisy and boisterous toddlers. Doesn't that describe all toddlers? It's so easy to cave in and give them the same foods every day. Anything for a quiet life.
But you want your kids to grow up to be healthy, fit adults and you know that the key is healthy eating.
Healthy Eating for Toddlers will show you how to feed your toddlers a healthy diet in such a way that they will learn to love healthy food and develop healthy eating habits. You will learn the stress free way to toddler eating, to bring happiness to your mealtimes.
I want to know when this amazing book is launching so that I can grab my FREE copy
Contents:
Introduction
The Problems with Toddlers. A brief look at why toddlers are so challenging in general and especially when it come to eating.
Let Go of the Stress. How parents can learn to relax when it comes to feeding their toddlers.
What is Healthy Eating? An overview of what foods you should be feeding your toddler.
Your Healthy Eating Routine. How to present food and structure your day to teach your toddlers to eat healthy foods.
Some Other Bits and Bobs. Other tips to help teach your kids healthy eating habits.
Cooking Tips.How to provide healthy food with the least amount of effort.
Some Really Easy Recipes. A few awesome and really easy recipes that will help you provide healthy food for your toddlers.
Follow the advice in this book and you will be amazed to see your toddler developing healthy eating habits.
What's stopping you from teaching your kids to be healthy eaters?
Eating habits develop under the age of 3 so now is the ideal time to teach your kids to love and choose healthy food so that they can grow into healthy adults.
Sign Up
If you'd like to know when Healthy Eating for Picky Toddlers is launching just sign up. It will be free for 3 days. I'll email you to tell you when.
I want to know when this amazing book is launching so that I can grab my FREE copy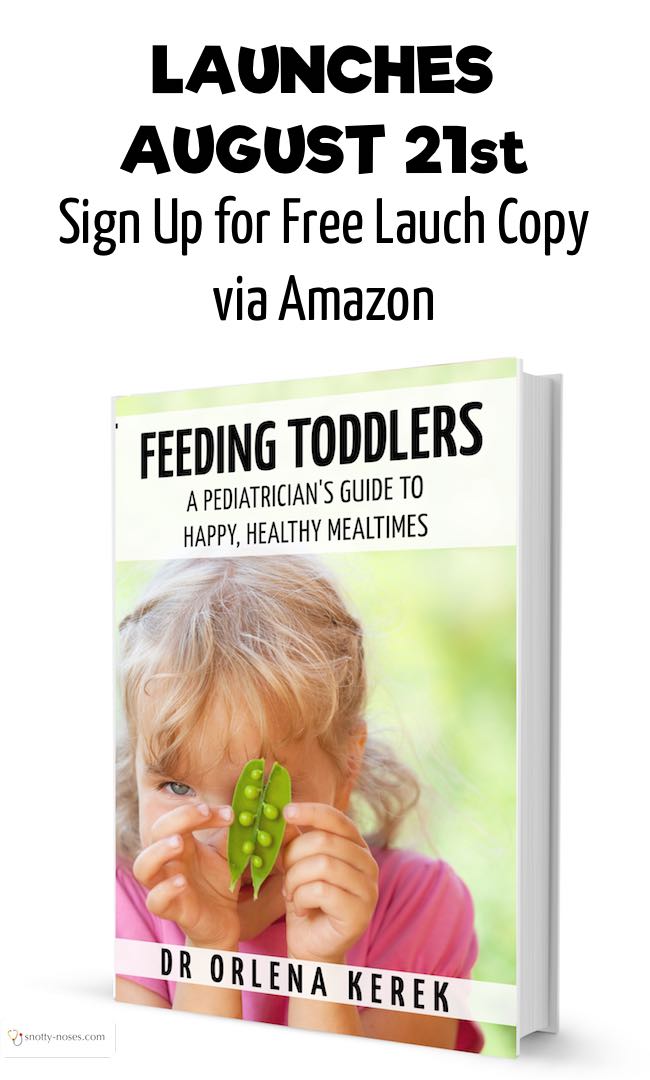 What People Are Saying About the Book
"This book is awesome! I really loved reading it and you are inspiring me to do better about feeding my daughter (and myself) healthy food. I thought it was very well written and engaging. Thanks for writing such an easy to read book on such an important topic!"
Sara Reimers from Sunshine Whispers
"What a helpful book! I loved the tone of this book. Dr. Kerek offers a very supportive, stress-free approach to feeding kids. The book is full of great ideas that can help even the pickiest of eaters. As a child therapist, I will most definitely share this resource with the families I see."
Natasha from AnxiousToddlers.com
"It is so helpful to find such sensible, down to earth and reassuring advice about feeding fussy toddlers. I have been getting very stressed out about my little boy's poor diet but after reading the book feel equipped to make changes and move towards healthier eating for all the family. I also feel very reassured that he is a normal toddler and I haven't done anything wrong to have made him a fussy eater! A great, simple and practical read which I will definitely be recommending to friends."
Stefanie Smith
"I love how Orlena stresses for parents not to be stressed about kid's eating. Most parents don't realize what a toddler sized portion is, so i love how to lay out that information for people so they can realize how small a child's portion actually is. With my daycare parents, that's what I find the biggest problem is, they don't realize how small a child's diet really is. I also love the advice about feeding regular meals. This is the best way to help kids get the most nutrition! Thanks for writing this book, I think it will be a great help to parents who are concerned with a healthy diet for their kids."
Christina Kamp from Little Sprouts Learning
"This is a fantastic resource for any parent or caregiver looking to improve the eating habits of their toddlers. It offers simple ideas to try with your own kids. It was also a great reminder that it is the parent's job to offer healthy food and the kid's job to decide whether and how much to eat. Will definitely share this book with my friends with kids!"
Tara Dubiel